You're receiving this email because you have expressed an interest in the Los Angeles County Bicycle Coalition (LACBC). Don't forget to add carol@la-bike.org to your address book so we'll be sure to land in your inbox!
You may
unsubscribe
if you no longer wish to receive our emails.
Los Angeles County Bicycle Coalition Newsletter
March 20, 2014
My Figueroa Project Heads to PLUM Committee Again on Tuesday
The MyFigueroa project has the potential to be Los Angeles' first protected bikeway (aka cycletrack), distinguished by a physical separation from traffic and dedicated bike signals at intersections. Figueroa connects key destinations spanning from Downtown LA to USC, two heavily biked communities, and will provide safer cycling and walking environment for local residents. It is a project that supported by Mayor Garcetti as well as the Los Angeles Times.


All Neighborhood Councils in the area have voted to send letters of support, and now the City Council needs to hear from everyone directly!
Please attend the PLUM committee meeting (curbed from the January 28th meeting) and send in a letter of support!
Planning and Land Use Management (PLUM) Meeting

When: Tuesday, February 25; 2:30 p.m.

Where: L.A. City Hall, Room 350 - 200 N. Spring St., Downtown L.A.

Staff report available here.


Email

To: councilmember.huizar@lacity.org, councilmember.cedillo@lacity.org, councilmember.englander@lacity.org,

CC:
councilmember.price@lacity.org, mayor.garcetti@lacity.org,
Sample email (please modify with your personal experience):


Dear Councilmembers,


I support the MyFigueroa complete streets project. While cities around the country are taking steps to rebalance city streets in favor of walking, biking and transit, Los Angeles has fallen behind. MyFigueroa would connect some of LA's premier destinations with a safe bikeway that is comfortable to ride for people of all ages and abilities, improve access to both bus and rail transit and make Figueroa a pleasant street to walk instead of a mini-freeway. In all other cities where these types of projects have been built, the result has been more vibrant public space, increased economic activity and safer streets for all travelers. I want these benefits here in LA too.


MyFigueroa is ready to go and will invest $20 million into South Los Angeles, if we just stop delaying the project. While large stakeholders have every right to ask questions and share their concerns, all four Neighborhood Councils that touch the project have voted in favor of the project as designed, demonstrating broad community support for moving ahead now. This broad community support has been on display throughout the countless public workshops and stakeholder meetings.


Please approve the project as designed and without delay.


Sincerely,


[Name]


Whole Foods Woodland Hills' 5% Day Benefits LACBC
Where:
Whole Food Woodland Hills -
21347 Ventura Blvd.,
Woodland Hills,
91364

We are excited that Whole Foods Woodland Hills has selected LACBC to a beneficiary of their 5% Community Giving program on March 30th! 5% of the day's sales go to LACBC. Aside from simply shopping at Whole Foods Woodland Hills that day (Whole Foods is open from 7 a.m. to 10 p.m.), we are also programming:
Bike rides to help get you to the store (RSVP at Tina.Varjabedian@wholefoods.com

From Reseda (West Valley Regional Library parking lot (Vanowen and Vanalden)

meetup at 10:30 a.m.;

take off at 10:45 a.m.

From Chatsworth (Orange Line bike path at Parthenia)

meetup at 10:30 a.m.;

take off at 10:45 a.m.

A cargo bike drag race in the parking lot

Raffling off a Tern cargo bike

Free food and refreshments
A huge thanks to Whole Foods Woodland Hills and Ride Reseda for partnering with us on the feeder rides! Get updates on the Facebook event.
Next Active Streets L.A. Event Is a Community Mapping Ride

Join LACBC, Trust South L.A., and the LADOT Bike Program for the next Active Streets event: a community mapping ride. The afternoon will be filled with neighborhood exploration as we build a map of the community's infrastructure along the Budlong Ave corridor.



When: Sunday, March 30; 10 a.m. - 2 p.m.


Where: Vermont Square Library - 1201 W. 48th St., Los Angeles, CA 90037


ACTION ALERT: Stop Hit-and-Runs in California! Sign the Petition
AB 1532, Assemblymember Mike Gatto's bill to take back the drivers' licenses of motorists who flee the scene of a crash, recently
passed the assembly's Public Safety Committee
. While revoking the drivers' licenses of hit-and-run motorists may not seem like big deal, it is very telling that hit-and-run motorists don't automatically have their licenses revoked already.
Hit-and-runs are a serious problem, in Los Angeles and beyond.


In the City of Los Angeles, 20,000 hit-and-run crashes occur annually, resulting in over 4,000 injuries. Of those injuries, 150 will be severe or fatal ones, and people walking and biking are disproportionately affected, accounting for 75% of those severe injuries and deaths.
Los Angeles is at the center of a larger statewide problem that needs to be addressed throughout California. The chance of someone being penalized for a hit-and-run crime, even if the perpetrator is caught, is so low that it is often worth the risk.
We call on the California State Legislature and Governor to revoke driving privileges of hit-and-run drivers and to increase penalties to remove the incentive to flee when drunk.
We call on law enforcement agencies and prosecutors to treat hit-and-run collisions like the violent crimes that they are by regularly reporting statistics, allocating adequate resources for investigations, and imposing appropriate penalties on perpetrators.
Please sign our statewide petition to stop hit-and-runs in California!
Next Community Planning Forums in South L.A. and Boyle Heights
Forums:
SOUTH LOS ANGELES
When: Saturday, March 22; 9 a.m. - 12 noon
Where: Martin Luther King, Jr. Recreation Center - 3916 S. Western Ave., Los Angeles, CA 90062
EAST
When: Saturday, March 29; 9 a.m. - 12 noon
Where: Boyle Heights City Hall - 2130 E. First St., Los Angeles, CA 90033
WEST
When: Wednesday, April 2; 6 p.m. - 9 p.m.
Where: Westwood United Methodist Church - 10497 Wilshire Blvd., Los Angeles CA 90024
SOUTH VALLEY
When: Saturday, April 5; 9 a.m. - 12 noon
Where: Marvin Braude Constituent Service Center - 6262 Van Nuys Blvd., Van Nuys, CA 91401
HARBOR
When: Saturday, April 12; 10 a.m. - 1 p.m.
Where: Peck Park Community Center - 560 N. Western Ave., San Pedro, CA 90732
Updates from Around the County: Pacoima Wash Bikeway Approved
San Fernando:
This week, the San Fernando City Council unanimously voted 5-0 to support the Pacoima Wash Bikeway and seek funding for it.
The bike path, scheduled to be completed in 2017, would extend 1.6 miles along the Pacoima Wash within the City of San Fernando.
Thanks to our partners at Pacoima Beautiful and Bikesanas del Valle Bike Co-op for mobilizing and getting the word out to folks. Read more on
L.A. Streetsblog
.
Beverly Hills:
On
April 1st
Beverly Hills City Council will again consider project options for Santa Monica Boulevard reconstruction. In early March, the Council had debated the inclusion of bicycle lanes on the city's segment of the corridor, but a majority indicated opposition. That discussion came as city staff projected a doubling of the costs (to $35 million). Given the cost uncertainty, and conflicting information about various aspects of the project, Council deferred action until
April 1st
.
While it doesn't look good for bicycle lanes, advocates do want to make sure street safety remains central to the project discussion. Let's remind Mayor Lili Bosse and Vice Mayor Julian Gold that earlier direction to our Blue-Ribbon design committee indicated Council consensus to incorporate complete streets principles into the corridor's redesign. Let's hold Council to that pledge. Contact City Council at
mayorandcitycouncil@beverlyhills.org
or by phone at 310-285-1013.
Los Angeles:
In 2011, the City of Los Angeles approved a Bike Plan and Implementation Strategy. As implementation of the Bike Plan continues, there's an increased awareness city-wide regarding the timeline for the Bike Plan. In order to help answer general questions about the Bike Plan, the City of Los Angeles - Department of City Planning will host a "Bike Plan Primer" online on April 17, 2014; from 7 p.m. to 8 p.m. Get more information at
thelabikeplan.org.
Valley:
As we have learned in the Valley, the Neighborhood Councils (NC's) that represent you
play a big role in decision making
. Sometimes, they just don't vote in our favor and have the potential to kill bike projects.
TODAY, the following NC's will be having their elections and we URGE you to vote. You have until 8 p.m. to vote
Toluca Lake
Valley Glen
Midtown Noho
Noho West
Noho Northeast
Sherman Oaks
Studio City
Valley Village
Van Nuys
For candidate profiles, simply go to
empowerla.org/elections
and click on the respective NC you are a part of (tomorrow's elections are in Region 4). There you will see a list of candidates you can vote for, along with additional voting and election information.
Santa Monica:
The bike lanes on Main St. and Broadway are now a dazzling green! The green thermoplastic makes the lane more visible, however, our local chapter Santa Monica Spoke has some objections to this treatment, as it does not follow the guidelines from the Bike Action Plan. Read more on the
Santa Monica Spoke website
.
Temple City:
The Rosemead Blvd. Enhancement Project in Temple City is nearing completion, which means that L.A. County's second protected bikeway (after the ones on Third and Broadway in Long Beach) is almost ready to ride! Join the City of Temple City for a celebration on Saturday, May 10th. More
info
on the celebration.
On Sunday, February 17th, 2013, Damian Kevitt and his wife were riding their bikes around Griffith Park when someone driving a light colored mini-van struck Damian and pinned him underneath the mini-van. Damian suffered road burns and lost his right leg and has since vowed to Finish the Ride that he started on that day.
Please join Damian on Finish the Ride on April 27th. Proceeds benefit Challenged Athletes and LACBC. Rides include a 6-mile ride, a 12-mile ride, and a 23-mile ride.
Finish the Ride benefiting LACBC and Challenged Atheletes
When: Sunday, April 27; registration starts at 6:30 a.m.
Where: start at Fountain Ave at L Ron Hubbard Way in East Hollywood
Find more info at finishtheride.org.
Register by March 31st to save money on registration!
Damian and Finish the Ride have been working to curb the prevalence of hit-and-runs locally. Damian, Assemblymember Mike Gatto, Justin Hager from Gatto's office, and JJ Hoffman of LACBC were on Bike Talk two weeks ago to discuss the ride and what we can do to make our streets safer. Listen in at BikeTalk.com.
Damian will also be be organizing a vigil for all hit-and-run victims at the Critical Mass on Friday, March 28th (postponed from the February ride).
LACBC Members Save at Carson Schwinn Cyclery

We would like to welcome Carson Schwinn Cyclery to our Business Partnership! Carson Scwhinn offers 15% off on bikes, parts, and accessories to all LACBC members.

Carson Schwinn i
s located at
251 E. Carson St. in Carson. You can find them on Facebook.
Fundraise for LACBC through the 14th Annual Los Angeles River Ride on June 22
Registration for the 14th Annual L.A. River Ride is now open, and we've now made it easier to participate in fundraising. When you register for the ride online, a fundraising page will automatically be set up for you, and you can choose to personalize it or not.
Every dollar counts to help make L.A. County a healthy, safe, and fun place to ride a bike. Will you join us?
When you meet certain fundraising milestones, you can earn River Ride registration, as well as other great prizes like LACBC and River Ride bike gear.
Learn more about fundraising
here
.
More on the 14th Annual L.A. River Ride:
When: Sunday, June 22, 2014
Where: start at Autry National Center in Griffith Park or the Aquarium of the Pacific in Long Beach
Register: here by May 27th and save $10.
LACBC
Members
save an additional $10.
Kids 12 and under ride for free.
10 great rides with 2 start locations (one at the Autry and one at the Aquarium of the Pacific in Long Beach
What's Ringing Our Bike Bells: 4 of the 10 Steepest Streets for Bicyclists Are in L.A.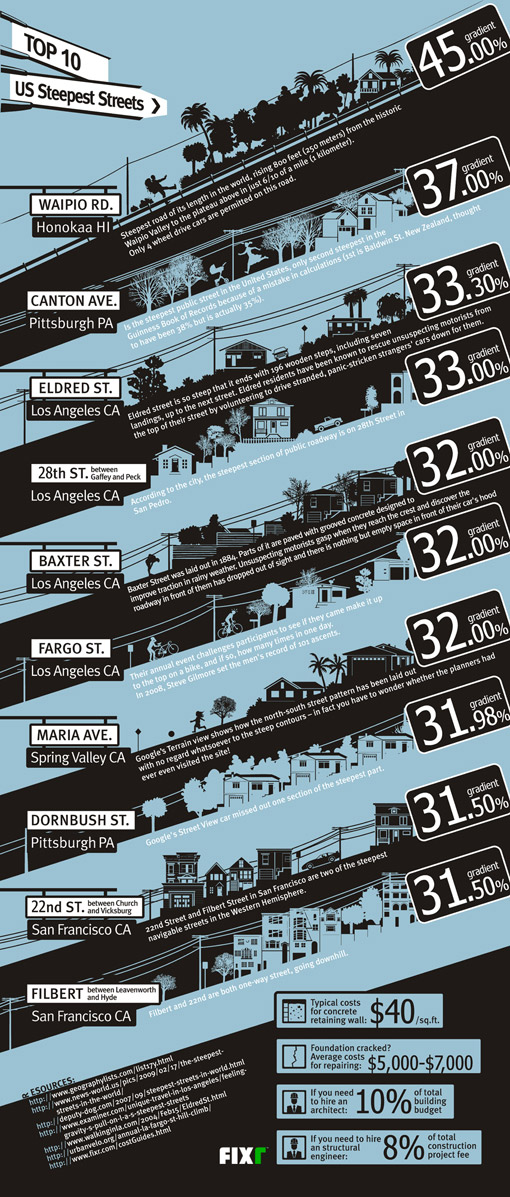 Are you riding one of the steepest streets in the United States?
Fixr recently created an infographic
on the Top 10 U.S. Steepest Streets. While Waipio Rd. in Honokaa, Hawaii, and Canton Ave. in Pittsburgh have the highest percent grade at 45% and 37%, respectively, the next 4 steepest streets are right in our backyard.
From the graphic:
Eldred St. - 33.30% gradient
28th St. between Gaffey and Peck - 33.00% gradient
Baxter St. - 32.00% gradient
Fargo St. - 32.00% gradient
You may recall that Fargo St. is the site of many event challenges, like the L.A. Wheelmen's Fargo St. Hill Climb, happening this Sunday, March 23rd. Just do a little YouTube search and you can see just how much people enjoy challenging themselves to ride Fargo.
Atlantic Cities
has more on these steep streets. Now you know where to ride if you want to feel the burn in your legs!
Events, Meetings, & Volunteer Opportunities
Walk Bike Glendale Pastry Walk
When: Saturday, March 22; 10:30 a.m.
Where: Glendale Public Library - 22 East Harvard st. Glendale
Did you know that Glendale is home to dozens of local ethnic pastry shops you can't find anywhere else? Our local chapter Walk Bike Glendale is going on a walk to visit some of the best ones! Taste some yummy pastries at our favorite pastry shops in South Glendale! See Facebook event.
City of Los Angeles Community Planning Forums
When: March 22 to April 12
More info in newsletter.
Empowering Local Advocates: An LACBC Workshop Series
When: Thursday, March 20; 6:30 p.m. to 8:00 p.m.
Where: LACBC HQ - 634 S. Spring St., Los Angeles, 90014
LACBC has grown as an organization to 11 local chapters throughout the county and 5 Bike Ambassador programs in Los Angeles City. With so much going on, LACBC headquarters wants to help empower YOU to advocate in your local capacity. Join us for our first workshop of the series - OUTREACH. At this workshop you will learn to: engage City Hall, table effectively, develop business partners, recruit volunteers, and connect with allies. RSVP here and see Facebook event.
MyFig at PLUM Committee
When: Tuesday, March 25; 2:30 p.m.
Whole Foods Woodland Hills 5% Day Benefiting LACBC
When: Sunday, March 30; 7 a.m. to 10 p.m.
CicLAvia - Iconic Wilshire Blvd.
When: Sunday, April 6; 9:00 a.m. to 4 p.m.
Where: Wilshire Blvd.
The first CicLAvia of 2014 comes back to one of L.A.'s favorite streets: Wilshire Blvd.! Bike, walk, run, skip, play, and eat. Find LACBC's booth at the One Wilshire Hub, as well as around the route with our Rolling Advocacy Trailer. New Belgium will also be having a CicLAvia Scavenger Photohunt, and for each clue sheet turned in, $5 will be donated to LACBC and CICLE. More info on CicLAvia.
Fireside Chat on Transportation with Councilmember Mike Bonin
When: Friday, April 11; 7:30 p.m.
Where: Moss Theater at New Roads School - 3131 Olympic Boulevard, Santa Monica, CA 90404
Angelenos Against Gridlock will be hosting a Fireside Chat on Transportation Los Angeles Councilmember Mike Bonin, who is also L.A. City Council Transportation Committee Chair and Metro Board Member & Expo Line Construction Authority Vice Chair. Discussion topics will include speeding up the pace of progress, the 405, rail through the Sepulveda Pass, bike share, bike safety & bike amenities, Westside gridlock, transit-oriented development, rail to LAX, the Expo Line, the Subway to the Sea-and the broader vision for improving mobility. RSVP here.
South L.A. Kids' Bike Festival
When: Sunday, April 13; 11:00 a.m. to 2 p.m.
Where: Foshay Learning Center - 3751 S. Harvard Blvd., Los Angeles, CA 90018
Join LACBC and Walk 'n Rollers for a FREE Kids Skills and Safety Festival, made possible by the USC Good Neighbors Campaign! Learn how to ride your bike safely, start and stop properly, avoid hazards, yielding, ride an obstacle course and more! Helmets required for all riders. We'll have a limited supply of bikes and helmets for those without. More info.
Finish the Ride benefiting LACBC & Challenged Athletes
When: Sunday, April 27
More info in newsletter.
14th Annual Los Angeles River Ride
When: Sunday, June 22
More info in newsletter.
Join LACBC or Renew
The Los Angeles County Bicycle Coalition is a member-supported organization that works for you to build a better, more bike-able L.A. County.


Members are the backbone of LACBC! Help keep LACBC strong by becoming an
LACBC member
(or renewing your membership) and be part of the change!
Contact Information

Carol Feucht
Membership & Communications Director
Los Angeles County Bicycle Coalition

Los Angeles County Bicycle Coalition
|
634 S. Spring Street
|
Suite 821
|
Los Angeles
|
CA
|
90014