You're receiving this email because you have expressed an interest in the Los Angeles County Bicycle Coalition (LACBC). Don't forget to add carol@la-bike.org to your address book so we'll be sure to land in your inbox!
You may
unsubscribe
if you no longer wish to receive our emails.
Los Angeles County Bicycle Coalition Newsletter
April 24, 2014
On Sunday, February 17th, 2013, Damian Kevitt and his wife were riding their bikes around Griffith Park when someone driving a light colored mini-van struck Damian and pinned him underneath. Damian suffered road burns and lost his right leg and has since vowed to Finish the Ride that he started on that day.
Damian has been leading a movement to end hit-and-runs by drawing attention to how prevalent this heinous crime is. Damian has been working with the LAPD Police Commission, and LAPD has committed to addressing hit-and-run crimes as a priority thanks in part to the Finish the Ride movement. The LAPD will be on hand, working together with bicyclists, to make Finish the Ride Happen on Sunday.
Please join Damian on Finish the Ride this Sunday, April 27th. Rides include a 6-mile ride, a 12-mile ride, and a 23-mile ride. Proceeds benefit both LACBC and Challenged Athletes.
Finish the Ride benefiting LACBC and Challenged Athletes
When: Sunday, April 27; registration starts at 6:30 a.m., rides leave at 8:20 a.m.
Where: start at 4810 Sunset Blvd., East Hollywood
Register at FinishTheRide.com.
If you still haven't already registered, LACBC members save 50% on registration with the code:
LACBCMEMBER50
Ride N. Figueroa Community Meeting Scheduled for Thursday, May 8th
Councilman Cedillo and the LADOT are conducting a community meeting to discuss N. Figueroa bike lanes. The 2010 Bicycle Plan calls for bicycle lanes on Figueroa, which would connect to bike lanes on York, Cypress, and the Los Angeles River.


Despite what is in the plan, an alternative is proposed AT THIS MEETING that waters down the safety elements of adding bike lanes on N. Figueroa. An alternative IN PLACE of Figueroa bike lanes are...


1. Sharrows on Figueroa - no bike lanes (not in the bike plan)

2. Sharrows on Sycamore Terrace (not in the bike plan)

3. Sharrows along Monte Vista (not in the bike plan)

4. Sharrows on Avenue 50


Unfortunately, this alternative does not address how N. Figueroa will be safer. In 10 years, there were 822 injuries along this corridor, including
9 fatalities and 56 bicycle-related collisions
. Do sharrows on other streets address this issue?
When: Thursday, May 8; 6:00 p.m.
Where:
Nightingale Middle School, Cafeteria - 3311 N. Figueroa St., Los Angeles
Spread the word via our
Facebook event
.
For more information, contact alek@la-bike.org
.
Join Us for Our Next Empowering Local Advocates Workshop on Membership on April 29th
We have grown as an organization to 11 local chapters throughout the county
and 5 Neighborhood Bike Ambassador groups in Los Angeles City. With so much going on,
headquarters wants to empower YOU to advocate in your local community.

Join us on our second workshop of the series - MEMBERSHIP!
When: Tuesday, April 29; 6:30 p.m. to 8:00 p.m.
Where: LACBC Headquarters, Edison Room (1st Floor) - 634 S. Spring St., Los Angeles, 90014
Help us extend our reach in a county of 10 million people. Learn how to engage interested stakeholders about what we do as an organization and help grow our
membership
base.
At this workshop you will learn to:

Why we are membership-based
How membership supports local advocacy
What membership benefits are
How to sell membership
How to participate in our Bike Month membership drive
Questions? Contact Alek Bartrosouf at alek@la-bike.org.
Refreshments will be provided.
Go Car-Free for the May the Forest Be with You - Sunday Funday Ride on May 4th


"May the Forest Be with You" is the theme for our next Sunday Funday Ride! In partnership with CarFreeSFV.com and the LA Los Angeles River Revitalization Corp., we're looking to highlight the ways you can go green beyond just riding your bike. Take the pledge to go car-free (or car-lite) that day!

Here are the details for the ride, as well as the walk.



May the Forest Be with You Family Bike Ride


When:

Sunday, May 4; meet at 9:30 a.m

Where: Valleyheart Drive and Radford Ave. (on the L.A. River Bike & Pedestrian Path), Studio City (map

)

Join us for this 14-mile ride led by LACBC board members Kevin Hopps and Carrie Ungerman, with support from our own Valley Neighborhood Bike Ambassadors and Ride Marshal Team! The ride will include rest stops with eco-educational presentations.




If you'd like to volunteer as ride support, please contact carol@la-bike.org.



Other things happening that day:

Eco-Scavenger Hunt (meet at 9:30 am)
LA River Revitalization Corp will host a walk/hunt for those who won't be riding.


Take the pledge to enter a raffle to win:
a Braven 570 Bluetooth speaker (approximate value $100)
4 tickets to the CBS July 4 celebration ($160 value)

L.A. County Bicycle Coalition membership package (approximate value $100)

bike repair kit (approximate value $90)
You'll receive an all-day discount from participating restaurants and businesses when you show your TAP card to Car-Free SFV stikcer:
Tuning Fork Gastropub - 25% off all food
California Pizza Kitchen (Studio City) - free small plate with $10 minimum order
The Counter Studio City - 10% off
Studio Cycle Company - 15% off
Road Runner Sports Studio City- 10% off (VIPs receive an extra 15% off if they can show they go their without their car)
Big Sugar Bakeshop- free cookie
Peet's Coffee & Tea (Studio City) - free small coffee
Major Win for Active Transportation and Safe Routes to School Funding at Metro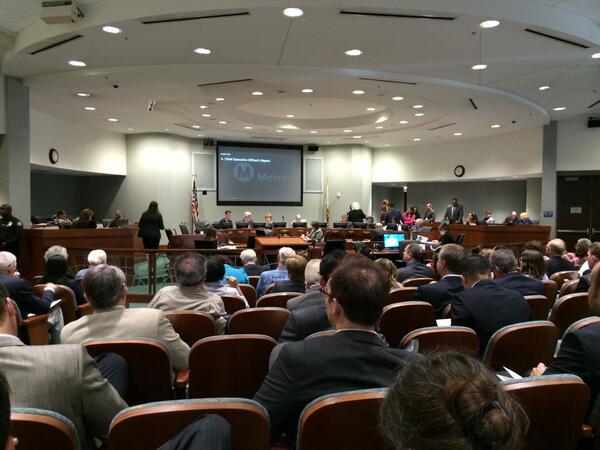 At today's Metro Board meeting, Metro directors continued the on-going discussion of implementing the Active Transportation Program in Los Angeles County.
The Active Transportation Program (ATP) is a new statewide competitive grant program that encourages bicycling and walking, especially for students traveling to school and for residents of disadvantaged communities. ATP resulted from the consolidation of multiple walking and bicycling programs, including Transportation Alternatives (formerly Transportation Enhancements), federal Safe Routes to School program, state Safe Routes to School program and the state Bicycle Transportation Account, with additional funds from the federal Highway Safety Improvement Program. Of these former programs, Metro used to have programming authority for only Transportation Enhancements, which is 53 percent of the total ATP. The new ATP, however, inherits a focus on travel to school and disadvantaged communities from the former Safe Routes to School programs, which were not selection factors in Metro's previous programming decisions.
The Safe Routes to School National Partnership and LACBC have continued to engage in this discussion, where this first came up at Metro's February Board Meeting, and then last week at the Ad Hoc Sustainability Committee and Planning and Programming Committee. You can read our comment letter here.
Metro's current predicament with ATP is a function of the agency's over reliance on limited state and federal funding sources for active transportation like walking and biking; yet 70% of all general transportation funding comes from local revenue. These funds are by and large not being leveraged for active transportation and safe routes to school, requiring cities to rely on state and federal grants like ATP for 80 to 90 percent of their walking and bicycling funds.
Today, the Metro Board agreed to devote greater attention to active transportation planning, focus on project development and finance strategy to ensure that Los Angeles County is better prepared for future ATP cycles, and work in partnership with local jurisdictions to identify needs.
Special thanks to Councilmember and Metro Board Member Mike Bonin for speaking up for active transportation today!
LACBC and Bicycle Kitchen Team Up to Donate and Assemble Bikes for St. John's Well Child and Family Center
Yesterday on April 23, LACBC partnered with professional bike mechanic Ali Valle and volunteers from the Bicycle Kitchen to assemble 10 bicycles that LACBC donated to St. John's Well Child and Family Center earlier this year. St. John's will be using the bikes as a private bike share fleet for its clients to use for exercise and transportation. LACBC will be providing future support through educational and encouragement programming. The bikes were donated to LACBC by Kilowatt Bicycles when they went out of business last year. LACBC is proud to partner with St. John's by donating the last of the Kilowatt bikes in stock along with providing support for the fleet. We'd like to thank Ali Valle and the Bicycle Kitchen cooks, Kerstin Leistner, Kora Colasuonno, Jennifer Wright, and Claude Esh, for volunteering their time to assemble the bikes!
Check out photos on our Facebook page!
Congrats to Team LACBC for Reaching $50,000 Climate Ride Goal!
Team LACBC, full of 16 great members, is participating in Climate Ride California, (May 17-20, 2014), a 4-day cycling adventure from San Francisco to California's Capitol in Sacramento! LACBC is once again a beneficiary!
Congrats to Team LACBC on reaching and surpassing our goal of $50,000! The Team has been training hard and working hard to raise funds and awareness for LACBC and Climate Ride.
We still have a few team members that need to reach their individual fundraising minimums of $2,800 by May 8th. Without reaching these minimums by then, team members will not be able to ride and LACBC may lose donations made to these members' campaigns.
Will you help by donating to a Team LACBC member?
Eric Vs. Alek
In the Eric Vs. Alek intra-office battle, Alek Bartrosouf is doing so well that he has jumped into the Top 10 (at #10) for all Climate Ride California fundraisers, joining fellow Team LACBC members Greg Laemmle (#1), Patrick Pascual (#5), and Eddie Beres (#9).
Help Eric Bruins and the following riders reach their $2,800 fundraising minimums by making a donation to their individual campaigns today!
Join LACBC and Our Local Chapters for Handlebar Happy Hour on Bike to Work Day on May 15th
Bike to Work Day is Thursday, May 15th. In addition to finding us at our morning pit stops, join LACBC and our local chapters for Handlebar Happy Hour!
We'll be hanging out and enjoying good grub to celebrate bicycling! Join us for many of the Handlebar Happy Hours throughout L.A. County
Echo Park hosted by

LACBC
When: Thursday, May 15; 6 p.m. to 8 p.m.
Where: Mohawk Bend - 2141 Sunset Blvd., Los Angeles, 90026
Glendale hosted by Walk Bike Glendale
When: Thursday, May 15; 5:30 p.m.
Where: Left Coast Wine Bar - 117 East Harvard, Glendale, 91205
Claremont hosted by Pomona Valley Bicycle Coalition
When: Thursday, May 15; 5 p.m. to 8 p.m.
Where: The Press - 129 N. Harvard Ave., Claremont, 91711
Santa Clarita hosted by Santa Clarita Valley Bicycle Coalition
When: Thursday, May 15; 3 p.m. to 7 p.m.
Where: Schooners Patio Grille - 22903 Soledad Canyon Rd., Santa Clarita, 91350
Santa Monica hosted by Santa Monica Spoke
When: Thursday, May 15; 5 p.m.
Where: Ristorante Al Mare - 250 Santa Monica Pier, Santa Monica, 90401
Nomination Period Open for Local Chapter Representative on LACBC Board of Directors
For over two years, LACBC has worked with local advocates in communities throughout Los Angeles County to develop a chapter model through which LACBC can support local campaigns while growing our countywide membership base. The chapter program has grown quickly to include chapters from all five county supervisor districts and all subregional councils of government, and serving more than 1 million residents outside the City of Los Angeles, reflecting a truly broad base for our advocacy work. Representatives of the
11 local chapters
meet at our downtown offices every couple months for mutual support, guidance from headquarters and to advise LACBC on countywide campaigns.
Reflecting LACBC's commitment to empowering grassroots advocacy, the chapters collectively elect one member to the LACBC board of directors. Any current LACBC member is eligible for this new position. Interested candidates must fill out a short questionnaire by April 30th. For more information, please contact your
local chapter leader
or Planning & Policy Director
Eric Bruins
.
Updates from Around California: 3 Important California Petitions Need Your Support
Right now, protected bikeways are being pioneered across the country, but under California's Department of Transportation outdated guidelines, protected bikeways are banned. On behalf of all LACBC members, CalBike is working to pass AB 1193, The Protected Bikeways Act, and legalize protected bikeways for use across the state. A revolution in infrastructure is the only way millions more people will ride a bike, and we will triple bicycle users in California by 2020. We need miles upon miles of better bikeways that provide physical barriers from fast car traffic and are designed to be inviting for all users from ages 8 to 80.
Join CalBike's social media push
to reach out to your friends and potentially have our call for better bikeways reach over 100,000 people on May 8th.

Sign LACBC's statewide petition to stop hit-and-runs in California!
AB 1532, Assemblymember Mike Gatto's bill to take back the drivers' licenses of motorists who flee the scene of a crash, recently
passed the assembly's Public Safety Committee
. While revoking the drivers' licenses of hit-and-run motorists may not seem like big deal, it is very telling that hit-and-run motorists don't automatically have their licenses revoked already.
We call on the California State Legislature and Governor to revoke driving privileges of hit-and-run drivers and to increase penalties to remove the incentive to flee when drunk.
We call on law enforcement agencies and prosecutors to treat hit-and-run collisions like the violent crimes that they are by regularly reporting statistics, allocating adequate resources for investigations, and imposing appropriate penalties on perpetrators.
Sign CalBike's Vulnerable Road Users petition!
Support California's Vulnerable Road Users Protection Act, AB 2398, by signing CalBike's petition. Too many Californians have been injured on our streets or are mourning the death of a loved one due to distracted or negligent motorists. Protecting Californians who ride bikes, walk, run, ride horses, scooter, skateboard, and work on our streets is vital to make California a better place to live. AB 2398 will protect all road users by:
Raising the fine for hitting a Vulnerable Road User
Assigning a point on the motorist's driver's license
Suspending the offender's license for six months
This bill will remind motorists of their obligation to be cautious of each person on our streets. Help make our streets more livable, and take California one step closer to reaching CalBike's goal of tripling the number of people riding bikes by 2020.
Fundraise for LACBC at the 14th Annual Los Angeles River Ride on June 22nd
Registration for the 14th Annual L.A. River Ride is now open, and we've now made it easier to participate in fundraising. When you register for the ride online, a fundraising page will automatically be set up for you, and you can choose to personalize it or not.
Every dollar counts to help make L.A. County a healthy, safe, and fun place to ride a bike. Will you join us?
When you meet certain fundraising milestones, you can earn River Ride registration, as well as other great prizes like LACBC and River Ride bike gear.
Tish Laemmle

Trent Whittaker

Sebouh Asparian
They are all competing to be the top fundraiser, to win V
BT's
Tuscany by the Sea
biking vacation! Runner-up prizes include
a limited edition
New Belgium Brewing
bike. Join them by becoming a fundraiser!
Learn more about fundraising
here
.
More on the 14th Annual L.A. River Ride:
When: Sunday, June 22, 2014
Where: start at Autry National Center in Griffith Park or Aquarium of the Pacific in Long Beach
Register: here by May 27th and save $10.
LACBC
Members
save an additional $10.
Kids 12 and under ride for free.
10 great rides with 2 start locations (Autry or Aquarium of the Pacific in Long Beach)
What's Ringing Our Bike Bells: Sweet Ride USA Interviews Damian Kevitt
On Sunday, we'll be helping Damian Kevitt to
Finish the Ride
. If you're not familiar with his story, check out
this interview
he did with Steve Isaacs of Sweet Ride USA on the hit-and-run that changes his life, why he had to get back on his bike, and the Finish the Ride Movement!
You can see the full interview
here
.
Events, Meetings, & Volunteer Opportunities
Santa Monica Kidical Mass
When: Saturday, April 26; 9:00 a.m. to 12:30 p.m.
Where: Memorial Park, north parking lot - 1401 Olympic Blvd., Santa Monica
Join Santa Monica Spoke, the City of Santa Monica, SMC Bike Club and Santa Monica Community Gardeners for Santa Monica's 2nd Kidical Mass Ride. This ride for families and kids of all ages will visit a community garden for a special kid-friendly event. A pizza party, a raffle, and prizes will be part of the festivities at Memorial Park after the ride! More info at SMSpoke.org.
Finish the Ride benefiting LACBC & Challenged Athletes
When: Sunday, April 27
More info in newsletter.
Empowering Local Advocates: Membership
When: Tuesday, April 29; 6:30 p.m. to 8:00 p.m.
More info in newsletter.
May the Forest Be With You Sunday Funday Ride
When: Sunday, May 4; meet at 9:30 a.m.
More info in newsletter.
What Can Food Sovereignty Look Like? A Bicycle Ride Through South L.A.
When: Sunday, May 4; meet at 11:30 a.m.
Where: Meet at the Exposition Park Rose Garden - 701 State Dr., Los Angeles 90037 (across from the Expo Park/USC Expo Line Station)
What does food sovereignty look like? How do we get food sovereignty into food deserts? This ride explores South L.A., one of Los Angeles' very own food deserts, and visiting edible gardens that are helping to pave the way for food sovereignty in South L.A. There will be a presentation and discussion on how those gardens helped change city policy, and what some people in Mexico and Guatemala are doing to establish their own food sovereignty. This ride is made possible by the USC Good Neighbors Campaign and is in partnership with LACBC. See Facebook event.
Bike to Work Day Morning Pit Stops
When: Thursday, May 15
Where: throughout Los Angeles County
Save the date for the Annual Bike to Work Day! LACBC, our local chapters, organizations, and businesses throughout L.A. County will be hosting pit stops for people on bikes in the morning. Learn more about BTWD and how you can sign up to host a pit stop (as well as other Bike Week Events) on Metro's website.
LACBC Handlebar Happy Hour
When: Thursday, May 15, 5 p.m.
Experience Central Ave. Mapping Ride
When: Saturday, May 17; 10 a.m. to 2 p.m.
Where: Jazz Park - 42nd pl and Central Ave
Join LACBC, TRUST South L.A., and Community Health Councils for another day of neighborhood exploration as we help build a map of community assets in some of Central Avenue's key cultural spaces and local businesses.We will be meeting at the Jazz park on 42nd pl and Central Ave. We will have one group ride north and another group will ride south. See Facebook Event.
California Bike Advocacy Day
When: Wednesday, May 21
Where: Sacramento, CA
On May 21, the California Bicycle Coalition is sponsoring Bike Advocacy Day in the state capital to tell our elected representatives how important it is to support our communities with bike-friendly policies and funding. Network with your fellow bicycling advocates from around the state while we press our agenda to direct more funding to bike infrastructure, change the rules to emphasize complete networks of protected bikeways, plus our other legislative priorities. Our own planning and
policy director Eric Bruins and other LACBC staff and board will be attending after completing Climate Ride on Team LACBC. Register with CalBike today.
14th Annual Los Angeles River Ride
When: Sunday, June 22
More info in newsletter.
Join LACBC or Renew
The Los Angeles County Bicycle Coalition is a member-supported organization that works for you to build a better, more bike-able L.A. County.


Members are the backbone of LACBC! Help keep LACBC strong by becoming an
LACBC member
(or renewing your membership) and be part of the change!
Contact Information

Carol Feucht
Membership & Communications Director
Los Angeles County Bicycle Coalition

Los Angeles County Bicycle Coalition
|
634 S. Spring Street
|
Suite 821
|
Los Angeles
|
CA
|
90014