You're receiving this email because you have expressed an interest in the Los Angeles County Bicycle Coalition (LACBC). Don't forget to add carol@la-bike.org to your address book so we'll be sure to land in your inbox!
You may
unsubscribe
if you no longer wish to receive our emails.
Los Angeles County Bicycle Coalition Newsletter
March 13, 2014
ACTION ALERT: Stop Hit-and-Runs in California! Sign the Petition
This week, AB 1532, Assemblymember Mike Gatto's bill to take back the drivers' licenses of motorists who flee the scene of a crash
passed the assembly's Public Safety Committee
. While revoking the drivers' licenses of hit-and-run motorists may not seem like big deal, it is very telling that hit-and-run motorists don't automatically have their licenses revoked already.
Hit-and-runs are a serious problem, in Los Angeles and beyond.


In the City of Los Angeles, 20,000 hit-and-run crashes occur annually, resulting in over 4,000 injuries. Of those injuries, 150 will be severe or fatal ones, and people walking and biking are disproportionately affected, accounting for 75% of those severe injuries and deaths.
If you are hit and severely injured or killed while walking or biking, there's a greater than 1 in 5 chance that the driver will not stop. In February 2013, a motorist hit Damian Kevitt while he was biking through Griffith Park in L.A. and then dragged him several hundred feet, leading to severe and near-fatal injuries. Hit-and-run victims are often more severely injured or killed during the act of fleeing than from the initial collision. Stopping after a collision saves lives.
So why do people run? Because they're likely to get away with it.
Los Angeles is at the center of a larger statewide problem that needs to be addressed throughout California. The chance of someone being penalized for a hit-and-run crime, even if the perpetrator is caught, is so low that it is often worth the risk. Drivers that are drunk face lesser consequences if they leave, sober up, and maybe turn themselves in if they see their case on the news. The meager penalties that do exist are rarely enforced. Prosecutors often downgrade charges or allow civil compromise, letting drivers off with a slap on the wrist. Drivers that flee the scene do not lose their driving privileges, despite neglecting the most basic responsibility of operating a motor vehicle.
We call on the California State Legislature and Governor to revoke driving privileges of hit-and-run drivers and to increase penalties to remove the incentive to flee when drunk.
We call on law enforcement agencies and prosecutors to treat hit-and-run collisions like the violent crimes that they are by regularly reporting statistics, allocating adequate resources for investigations, and imposing appropriate penalties on perpetrators.
Please sign our statewide petition to stop hit-and-runs in California!
On Sunday, February 17th, 2013, Damian Kevitt and his wife were riding their bikes around Griffith Park when someone driving a light colored mini-van struck Damian and pinned him underneath the mini-van. Damian suffered road burns and lost his right leg and has since vowed to Finish the Ride that he started on that day.
Please join Damian on Finish the Ride on April 27th. Proceeds benefit Challenged Athletes and LACBC. Rides include a 6-mile ride, a 12-mile ride, and a 23-mile ride.
Finish the Ride benefiting LACBC and Challenged Atheletes
When: Sunday, April 27; registration starts at 6:30 a.m.
Where: start at Fountain Ave at L Ron Hubbard Way in East Hollywood
Find more info at finishtheride.org.
Register by March 31st to save money on registration!
Damian and Finish the Ride have been working to curb the prevalence of hit-and-runs locally. Damian, Assemblymember Mike Gatto, Justin Hager from Gatto's office, and JJ Hoffman of LACBC were on Bike Talk this past weekend to discuss the ride and what we can do to make our streets safer. Listen in at BikeTalk.com.
Damian will also be be organizing a vigil for all hit-and-run victims at the Critical Mass on Friday, March 28th (postponed from he February ride).
My Figueroa Project PLUM Committee Meeting Set, Plus Support at Other Neighborhood Council Meetings
The
My Figueroa project
has the potential to be Los Angeles' first protected bikeway (aka cycletrack), distinguished by a physical separation from traffic and dedicated bike signals at intersections. Figueroa connects key destinations spanning from Downtown LA to USC, two heavily biked communities, and will provide safer cycling and walking environment for local residents. It is a project that supported by Mayor Garcetti as well as the
Los Angeles Times
.
Despite strong community support, the City Council's Planning & Land Use Management (PLUM) Committee so far has deferred to Councilmember Price's motion to delay a vote on the project and instructed city staff report back with
problematic
alternatives. As we wait for the project to be heard at a future PLUM meeting, tentatively scheduled for March 25th, we are asking for affected neighborhood councils and stakeholders to weigh in.
This past week, the North Area Neighborhood Development Council (NANDC) and Downtown L.A. Neighborhood Council (DLANC) voted to send in letters of support!

To realize the city's first protected bikeways, WE NEED YOUR SUPPORT!


Do you live, work, study, or spend time in one of the neighborhoods below? Please ATTEND to your local neighborhood council meeting. In some cases the governing board may take action without the need for public testimony, but it is always helpful to have advocates on hand that can speak towards the importance of making Figueroa a more people-oriented corridor. Attend the meetings, spread the word, and engage with your neighborhood council!

South Central Neighborhood Council Board Meeting

When:
Saturday, March 15; 12 p.m. to 2 p.m.
Where:
All Peoples Community Center - 822 E 20th St.,

Los Angeles, CA 90011
Neighborhood Council boundaries
map
Voices Of 90037 Neighborhood Council Special Governing Board Meeting (Vermont Square) - Rescheduled from March 11th
When: Tuesday, March 18; 6:30 p.m.
Where: Community Financial Resource - 4060 S Figueroa St., Los Angeles, CA 90037

Neighborhood Council boundaries
map
Planning and Land Use Management Meeting
When:
Tuesday, February 25; 2:30 p.m.
Where: L.A. City Hall, Room 350 - 200 N. Spring St., Downtown L.A.

Save the date!
Even if you aren't a stakeholder in any of these areas, there are other ways for you to help. Join the grassroots
Keep MyFig On Track Facebook Group
for updates on you you can get involved. Thanks to LACBC members and volunteers Michael MacDonald for their leadership on this!
Community Planning Forums Begin this Saturday in the Valley
Forums:
NORTH VALLEY
When: Saturday, March 15, 9 a.m. - 12 noon
Where: Granada Hills Recreation Center - 16730 Chatsworth St., Granada Hills, CA 91344
CENTRAL
When: Wednesday, March 19; 5 p.m. - 8 p.m.
Where: Metro Headquarters (near Patsaouras Plaza) - One Gateway Plaza, Los Angeles, CA 90012
SOUTH LOS ANGELES
When: Saturday, March 22; 9 a.m. - 12 noon
Where: Martin Luther King, Jr. Recreation Center - 3916 S. Western Ave., Los Angeles, CA 90062
EAST
When: Saturday, March 29; 9 a.m. - 12 noon
Where: Boyle Heights City Hall - 2130 E. First St., Los Angeles, CA 90033
WEST
When: Wednesday, April 2; 6 p.m. - 9 p.m.
Where: Westwood United Methodist Church - 10497 Wilshire Blvd., Los Angeles CA 90024
SOUTH VALLEY
When: Saturday, April 5; 9 a.m. - 12 noon
Where: Marvin Braude Constituent Service Center - 6262 Van Nuys Blvd., Van Nuys, CA 91401
HARBOR
When: Saturday, April 12; 10 a.m. - 1 p.m.
Where: Peck Park Community Center - 560 N. Western Ave., San Pedro, CA 90732
Updates from Around the County: Important Meeting on Pacoima Wash Bike Path on Monday
San Fernando:
Next week,
a special City Council study session
will be held to evaluate an application to fund phase 1 of the
Pacoima Wash
Bike Path. The bike path is a 3.2-mile connection between Pacoima and the Angeles National Forest at Lopez Dam. The first phase, 1.6 miles long, runs through the City of San Fernando and connects multiple parks, a new high school and the brand new San Fernando Road bike path. This bike path is the result of over a decade of community planning by Pacoima Beautiful around revitalizing and greening the Pacoima Wash to turn a blight into a valuable asset for the northeast San Fernando Valley.
The San Fernando City Council needs to hear from people that want to see this bike path realized and will use it when it is built.

Pacoima Wash Bike Path City Council Study Session
When: Monday, March 17; 4:30 p.m.

Where: San Fernando City Hall - 117 Macneil Street, San Fernando, CA 91340
Santa Clarita:
LACBC members in the Santa Clarita Valley
are looking to form a local chapter! This upcoming meeting is intended to bring together members of the SCV cycling community who are willing to commit their efforts, through leadership and participation, to the SCV
area.
Santa Clarita Valley Chapter Kickoff Meeting
When: Tuesday, March 18;
7:00 p.m.
Where:
Performance Cyclery -
23360 Cinema Drive, Santa Clarita, 91355
Temple City:
The Rosemead Blvd. Enhancement Project in Temple City is nearing completion, which means that L.A. County's second protected bikeway (after the ones on Third and Broadway in Long Beach) is almost ready to ride! Join the City of Temple City for a celebration on Saturday, May 10th. More
info
on the celebration.
Venice:
This week the L.A. Department of Transportation unveiled two new bike corrals, both on Abbott-Kinney in Venice. One is located in front of Local 1205 and Gjelina Take Away. The next corrals to be installed will be at Antigua Coffee in Cypress Park and Laemmle Theatres in North Hollywood. Read more on the
LADOT Bike Blog
.
Santa Monica:
The bike lanes on Main St. are currently being painted green, and soon the bike lanes on Broadway will be too. Check out a photo from
Santa Monica Planning
.
Eagle Rock:
A serious injury has been reported due to a dangerous condition in the center of the westbound bicycle lane on
Colorado Boulevard, between Vincent Avenue and Mount Royal Drive
, in Eagle Rock. The condition is a deviation in the center of the lane that runs for several yards parallel to and directly between the lines that delineate the bicycle lane. It consists of an undulating ledge that has formed where the asphalt of the roadway dips into a shallow trench where it meets the concrete that forms the gutter and sidewalk. Cracks also exist between traffic side lane line of the bike lane and the number two vehicular lane (and bus lane).
If you experienced this dangerous condition or know someone who has, please call Josh at
(323) 937-7105
, or email him at
josh@paulfcohenlaw.com
.
Ride with Greg Laemmle Climate Ride Winners Announced!

Last month, Laemmle Theatres held a Ride with Greg Laemmle contest for the second year in a row, and we are pleased to announce the winners who will be joining Team LACBC on Climate Ride this May! And the winners are. . . .
Grand Prize: David Rindlaub
David wins an unlimited Laemmle movie pass for one year, free registration for Climate Ride, and a $2500 contribution toward his Climate Ride fundraising goal.


Second Prize: Eddie Beres and Dalila Mendez

Eddie and Dalila each win an unlimited Laemmle movie pass for one year, free registration for Climate Ride, and a $1250 contribution toward their Climate Ride fundraising goal.


Third Prize: Aaron Ratcliff and Alan Bair

Aaron and Alan each win an unlimited Laemmle movie pass for one year, and free registration for Climate Ride.
Congratulations to these five new team members!
Fundraise for LACBC at the 14th Annual Los Angeles River Ride on June 22
Registration for the 14th Annual L.A. River Ride is now open, and we've now made it easier to participate in fundraising. When you register for the ride online, a fundraising page will automatically be set up for you, and you can choose to personalize it or not.
Your fundraising supports our work to make L.A. County a healthy, safe, and fun place to ride a bike.
When you meet certain fundraising milestones, you can earn River Ride registration, as well as other great prizes like LACBC and River Ride bike gear.
Learn more about fundraising
here
.
More on the 14th Annual L.A. River Ride:
When: Sunday, June 22, 2014
Where: start at Autry National Center in Griffith Park or the Aquarium of the Pacific in Long Beach
Register here by May 27th and save $10.
LACBC
Members
save an additional $10.
Kids 12 and under ride for free.
10 great rides with 2 start locations (one at the Autry and one at the Aquarium of the Pacific in Long Beach
LACBC's Presence Felt at the National Bike Summit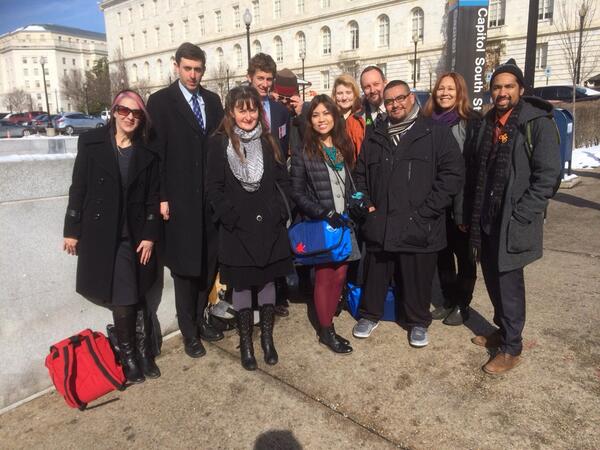 LACBC had a grand presence at last week's National Bike Summit and National Women's Bicyclign Forum! LACBC staffer Shanon Muir talked about her Active Streets work on the panel called "Empowering Communities through Bicycling: Lessons from Los Angeles." Meghan Sahli-Wells, Culver City Bicycle Coalition co-founder and current Vice-Mayor of Culver City, offered her insights in the political arena on a panel titled, "Bike Advocacy as a Political Platform."

Eric Bruins, LACBC's Planning & Policy Director, mobilized a contingent of LACBC chapter reps, L.A. advocates, and partner organizations to meet with representatives on Capitol Hill about these very important issues. We even saw our former Planning & Policy and Director Dorothy Le take the national stage as a panelist during the Plenary Discussion at the Women's Forum!

In short, LACBC is everywhere (seriously, we're all over the country!). We could tell you more but the Streetflim below sums it up for us.

What's Ringing Our Bike Bells: National Women's Bicycling Forum and National Bike Summit
If you still can't get a sense of what happened at the National Women's Bicycling Forum and the National Bike Summit, here's a video for you. There was a bad case of BIKELASH, a 262-mile ride from New York City to the Summit, USDOT Secretary of Transportation Anthony Foxx joking about riding in the Tour de France, and interviews from a few key players in the L.A. biking community who are now doing great work elsewhere: Dorothy Le, now the Senior Transportation Planner at the Rutgers University Department of Transportation Services, and Adonia Lugo, now the Equity Initiative Manager at the League of American Bicyclists.
Events, Meetings, & Volunteer Opportunities
City of Los Angeles Community Planning Forums
When: March 15 to April 12
More info in newsletter.
Touring L.A. County with LACBC & Where to Bike: The Donut
When: Saturday, March 15; Meet at 8:30 a.m., ride at 9:00 a.m.
Where: Wilmington Waterfront Park - Drive south on the 110 Freeway to the C Street exit in Wilmington. Then, continue east a short distance to the Park. We will meet at the small parking lot at the Park's east end off Lagoon Avenue. Here's the map the Park.
This is a San Pedro version of the classic "Donut" tour around the Palos Verdes Peninsula. We'll start (and finish) with a warm-up (and cool down) through the port city of San Pedro where we will see everything nautical (tankers, container ships, old battleships, merchant vessels, cruise ships, lighthouses, seagulls). Then, we'll ride into PV proper and tackle the famous switchbacks (the one big climb of the day). From there we'll continue around to Malaga Cove (rest stop), Point Vicente, Abalone Cove, and Fort McArthur. We should have many wonderful vistas of the South Bay, Catalina and the Port of Los Angeles as we ride back to San Pedro and Wilmington. 43 miles total. More info.
Active Living Plugged In Training
When: Saturday, March 15, & Sunday, March 16
Where: LACBC Headquarters
This innovative new training from Women on Bikes California is geared to measurably grow your aptitude, polish your skills, hone your voice, grow your network, and learn to own your power as an active living advocate for California. Learn more here.
MyFig at South Central Neighborhood Council Board Meeting
When: Saturday, March 15; 12 p.m. to 2 p.m.
MyFig at Voices Of 90037 Neighborhood Council Special Governing Board Meeting
When: Tuesday, March 18; 6:30 p.m.
More info in newsletter.
Santa Clarita Valley Chapter Kick-Off Meeting
When: Tuesday, March 18; 7:00 p.m.
More info in newsletter.
Empowering Local Advocates: An LACBC Workshop Series
When: Thursday, March 20; 6:30 p.m. to 8:00 p.m.
Where: LACBC HQ - 634 S. Spring St., Los Angeles, 90014
LACBC has grown as an organization to 11 local chapters throughout the county and 5 Bike Ambassador programs in Los Angeles City. With so much going on, LACBC headquarters wants to help empower YOU to advocate in your local capacity. Join us for our first workshop of the series - OUTREACH. At this workshop you will learn to: engage City Hall, table effectively, develop business partners, recruit volunteers, and connect with allies. RSVP here and see Facebook event.
My Fig at PLUM Committee
When: Tuesday, March 25; 2:30 p.m.
Whole Foods Woodland Hills 5% Day Benefiting LACBC
When: Sunday, March 30; 7 a.m. to 10 p.m.
We are proud to announce Whole Foods Woodland Hills has selected LACBC to a beneficiary of their 5% Community Giving program on March 30th! 5% of the day's sales go to LACBC. Aside from simply shopping at Whole Foods Woodland Hills that day (Whole Foods is open from 7 a.m. to 10 p.m.), we are also programming:
1. Bike rides to help get you to the store (RSVP atTina.Varjabedian@wholefoods.com)
From Reseda (West Valley Regional Library parking lot (Vanowen and Vanalden)
meetup at 10:30 am
take off at 10:45 am
From Chatsworth (Orange Line bike path at Parthenia)
meetup at 10:30 am
take off at 10:45 am
2. A cargo bike drag race in the parking lot
3. Raffling off a cargo bike
4. Free food and refreshments
A huge thanks to Whole Foods Woodland Hills and Ride Reseda for partnering with us on the feeder rides! Get updates on the Facebook event.
CicLAvia - Iconic Wilshire Blvd.
When: Sunday, April 6; 9:00 a.m. to 4 p.m.
Where: Wilshire Blvd.
The first CicLAvia of 2014 comes back to one of L.A.'s favorite streets: Wilshire Blvd.! Bike, walk, run, skip, play, and eat. More info.
South L.A. Kids' Bike Festival
When: Sunday, April 13; 11:00 a.m. to 2 p.m.
Where: Foshay Learning Center - 3751 S. Harvard Blvd., Los Angeles, CA 90018
Join LACBC and Walk 'n Rollers for a FREE Kids Skills and Safety Festival, made possible by the USC Good Neighbors Campaign! Learn how to ride your bike safely, start and stop properly, avoid hazards, yielding, ride an obstacle course and more! Helmets required for all riders. We'll have a limited supply of bikes and helmets for those without. More info.
Finish the Ride benefiting LACBC & Challenged Athletes
When: Sunday, April 27
More info in newsletter.
14th Annual Los Angeles River Ride
When: Sunday, June 22
More info in newsletter.
Join LACBC or Renew
The Los Angeles County Bicycle Coalition is a member-supported organization that works for you to build a better, more bike-able L.A. County.


Members are the backbone of LACBC! Help keep LACBC strong by becoming an
LACBC member
(or renewing your membership) and be part of the change!
Contact Information

Carol Feucht
Membership & Communications Director
Los Angeles County Bicycle Coalition

Los Angeles County Bicycle Coalition
|
634 S. Spring Street
|
Suite 821
|
Los Angeles
|
CA
|
90014